Private investments for the sustainable development of the fishing areas in the Prefecture of Lassithi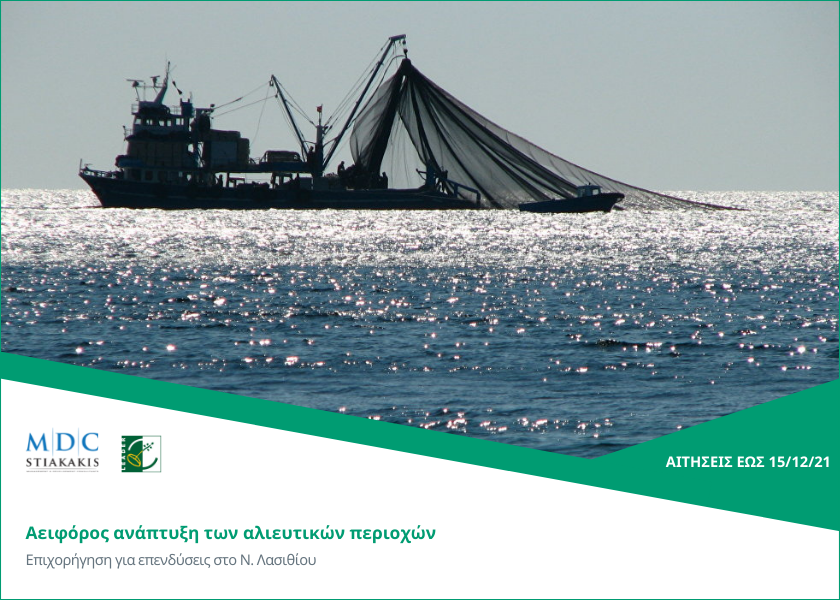 Published on
The following may be funded:
Investments to improve health, hygiene, safety and working conditions for fishermen
Investments in equipment for reducing greenhouse gas emissions and emissions and increasing the energy efficiency of fishing vessels
Processing of fishery and aquaculture products
Fishing tourism services
Investments related to small and very small enterprises (establishment, modernization).
Target Audience
Fishermen or fishing vessel owners (natural or legal persons) professionally engaged in fishing on an active fishing vessel (with a valid professional fishing license), including inland fisheries, active or active in the intervention area and / or operating in it, in accordance with Article 3 of EU Regulation 508/2014 and as defined by national legislation, for investments that contribute to the diversification of activities and the supplementation of their income (small and very small enterprises)
Non-fishermen (natural and legal persons) operating or planning to operate in the intervention area for the establishment or modernization of micro and small enterprises in accordance with 2003/361 / EC Recommendation of the Commission of the European Communities
Submission period
from 15/10/2021 to 15/12/2021 (time 16:00)
Funding applications must be submitted by potential beneficiaries through the State Aid Management Information System, using the standard Funding Application Form. The potential beneficiary is obliged to fill in all the mandatory fields of the electronic Application (field SUBMISSION of the PSKE), as they appear in Form I_1. The e-mail address must be filled in, through which the EF will send to the institution all the required documents related to the request for funding.
Potential Beneficiaries must, within 10 working days from the submission of the application to the PSKE, send to the EF proof of registration of the funding application as produced by the PSKE, as well as a complete file in digital form (USB stick) which will include the application as submitted to the PSC as well as all the supporting documents that accompany it (including those supporting documents for which electronic submission is not possible).
Type of aid
Grant / Subsidy
Application area
Region of Crete
Intervention area:
Municipality of Agios Nikolaos: Municipal Community of Agios Nikolaos, Local Community of Vrouha, Local Community of Elounda, Local Community of Kalo Chorio, Local Community of Kritsa, Local Community of Lakes, Local Community of Skinia, Local Community of Vrachasi
Municipality of Ierapetra: Local Community of Agios Stefanos, Local Community of Pefkon
Municipality of Sitia: Municipal Community of Sitia, Local Community of Lastros, Local Community of Roussa Church, Local Community of Tourlotis, Local Community of Palekastro
Terms and conditions
The terms and conditions of participation, the foreseen procedures and the eligibility criteria are listed in detail in no. prot. 225 / 13-10-2021 invitation with its annexes.
What is funded
Expenditures are considered eligible, which are proven to be related to the implemented investment plan, follow a sufficient control path for their payment and are in accordance with the provisions of YAEKED (YPASYD 20214-2020) [137675 / ΕΥΘΥ 1016 / 19-12-2018 (Government Gazette B '5968)] and in the special institutional framework that applies to certain actions, as described in detail in the Invitation and its Annexes.
Budget
€ 771,000
Read the call proclamation here.
Source: espa.gr
To see all the available subsidized programs click here.
Contact us for further details:
Email: grants@mdcstiakakis.gr
Τel. 2810 280985