Training and certification of knowledge and skills in areas of the Smart Specialization Strategy of the Region of Crete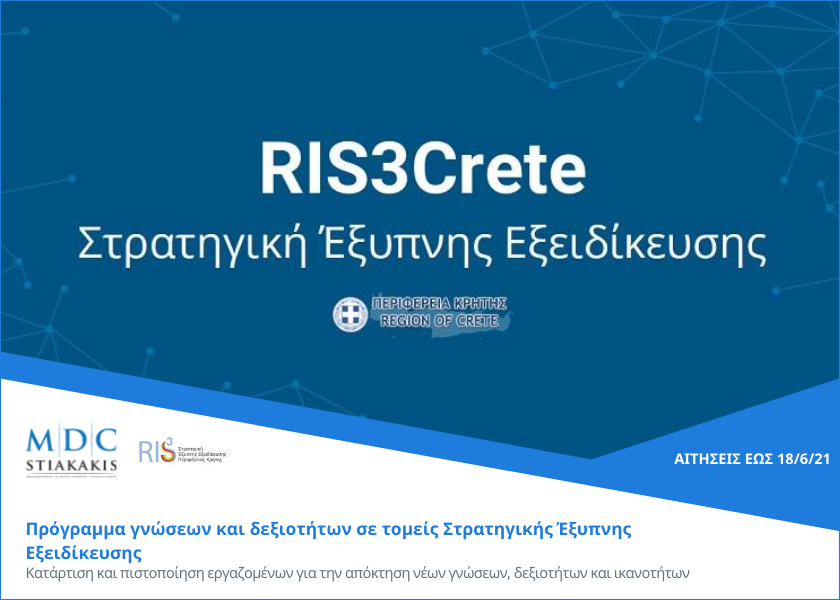 Published on
Training and certification of employees for the acquisition of new knowledge, skills and competencies in one or more sectors of the economy related to the priority areas of the Smart Specialization Strategy of the Region of Crete (RIS3Crete).
Target Audience
Associations and Business Associations of Crete
Secondary Federations with regional scope and their organizations
Sectoral bodies of the Region of Crete and their organizations
Scientific-professional bodies of the Region of Crete
Chambers of Crete
NPDD-NPID representation of Chambers or Associations of Businesses with regional scope.
Submission period
From 19/4/2021 to 18/6/2021 In cases of documents, for which the electronic attachment / submission is not technically possible (eg maps, drawings, etc.), the beneficiary is obliged to send them to the "SPECIAL MANAGEMENT SERVICE OP. REGION OF CRETE "at the address D. Beaufort 7, Heraklion 712 02 within 10 working days from the date of electronic submission of the proposal by the Beneficiary.
Application area
Region of Crete
Terms and conditions
The Technical Deed (TSI), is the proposal of the Beneficiary and is completed exclusively in electronic form available at the OPS NSRF. Read more here.
Budget
€ 3,000,000
Source: https://www.espa.gr/en/Pages/default.aspx
To see all the available subsidized programs click here.
Contact us for further details:
Email: grants@mdcstiakakis.gr
Τel. 2810 280985