Investments for the sustainable development of the fishing areas in Rethymnon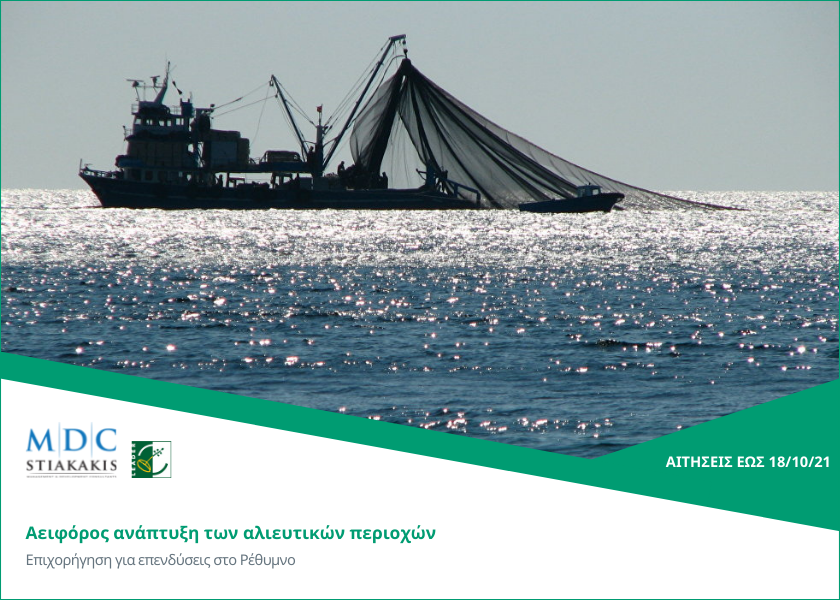 Published on
Under the Call, the following may be funded:
Investments to improve health, hygiene, safety and working conditions for fishermen.
Investments in equipment or on board aimed at reducing greenhouse gas emissions and emissions and increasing the energy efficiency of fishing vessels.
Investments in tourism, trade and services by small and micro enterprises.
Target Audience
Fishermen or owners of fishing vessels (natural or legal persons), who are professionally engaged in fishing on an active fishing vessel (with a valid fishing license).
Non-fishermen, natural and legal persons who are or will be active in the intervention area for the establishment or modernization of micro and small enterprises.
Submission period
from 4/8/2021 to 18/10/2021
Funding applications must be submitted by potential beneficiaries through the State Aid Management Information System (PSAS), using the standard Funding Application Form. PSKE operates on the website http://www.ependyseis.gr. Potential Beneficiaries must, within 10 working days from the submission of the application to the PSKE, send to the EF proof of registration of the funding application as produced by the PSKE, as well as a complete file in digital form (USB stick) which will include the application as submitted to the PSC as well as all the supporting documents that accompany it (including those supporting documents for which electronic submission is not possible).
Application area
Region of Crete
Communities of the Municipality of Agios Vassilios (Agia Galini, Akoumion, Ardaktos, Drimiskou, Kentrochori, Kerame, Kissou, Kryas Vrysi, Melampon, Morne, Myxorrouma, Ornes, Saktourion)
Municipality of Mylopotamos (Aggelianon, Achlade, Melidoni, Panormou, Roumeli, Sison, Skepasti, Garazou, Agia, Aloidon, Chonou) and Municipality of Rethymno (Adele, Pangalochori, Pigi, Prinos, Hamalevriou) of PE.
Terms and conditions
The terms and conditions are described in the issue of the Invitation and its Annexes.
Budget
€ 672,252.80
Source: https://www.espa.gr/en/pages/default.aspx
To see all the available subsidized programs click here.
Contact us for further details:
Email: grants@mdcstiakakis.gr
Τel. 2810 280985