Investments for the sustainable development of the fishing areas in Messara, Heraklion, Crete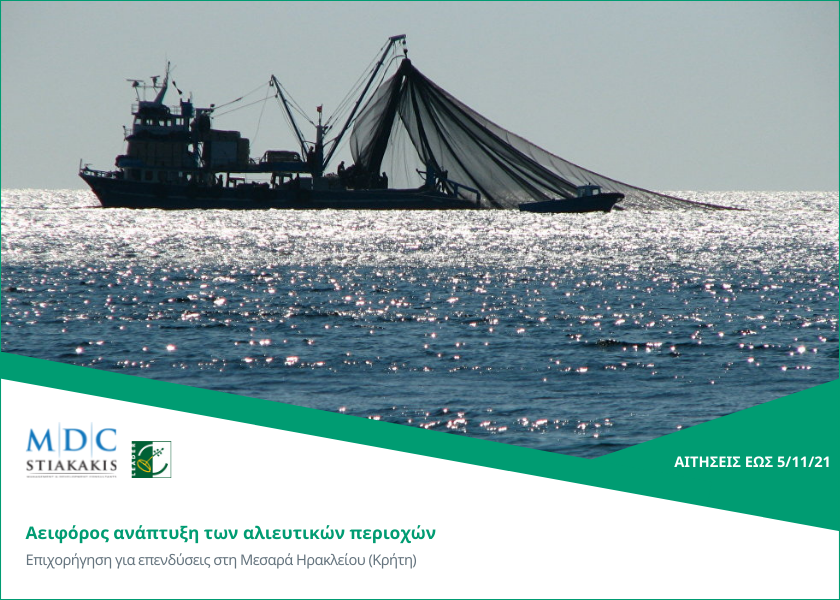 Published on
In the context of the implementation of the Local Program CLLD / LEADER Prefecture of Heraklion (Messara), the following can be financed:
Investments to improve the health, hygiene, safety and working conditions of fishermen provided that such investments go beyond the requirements of national or Union law.
Investments in equipment or on board aimed at reducing greenhouse gas emissions and emissions and increasing the energy efficiency of fishing vessels.
Processing of fishery and aquaculture products.
Investments related to small and very small enterprises (establishment, modernization) in the field of tourism, handicrafts, trade, catering and services. Eligible areas of activity are exclusively the KAD mentioned in the attached Annex IA and IB "Eligible Activity Codes" of the detailed invitation.
Target Audience
Fishermen or fishing vessel owners (natural or legal persons) fishing professionally on an active fishing vessel (with a valid fishing license)
Non-fishermen, natural and legal persons.
Applications for funding and start-ups are accepted.
Submission period
from 4/8/2021 to 5/11/2021 (time 15:00)
The application for support is submitted electronically to the PSKE and in a physical file to the Development Heraklion AAE OTA. Specifically, the electronic submission of the application is done through the website of the Information System of State Aids (PSKE) www.ependyseis.gr and presupposes that a process of obtaining personal passwords by the potential beneficiary has preceded. After the electronic submission to the PSKE, the potential beneficiaries must within 10 working days submit (or send by mail or courier) the physical file to Heraklion Development, according to the provisions of the detailed invitation.
Application area
Region of Crete
• Municipality of Gortyna: Municipal Unit of Gortyna (Municipality of Agios Kirillos, Epsokari, Vasiliki, Miamos)
• Municipality of Phaistos: Municipal Unit of Miron (PC Alithini, Antiskari, Pigaidakion, Pompei), Municipal Unit of Tympaki (Municipality of Tympaki, PC of Kamilari, Klimatos, Lagoli, Magarikari, Pitsidia).
Terms and conditions
The terms and conditions of participation are defined in the detailed invitation.
Budget
€ 1,369,500
Source: https://www.espa.gr/en/pages/default.aspx
To see all the available subsidized programs click here.
Contact us for further details:
Email: grants@mdcstiakakis.gr
Τel. 2810 280985