ESPA: Digital Leap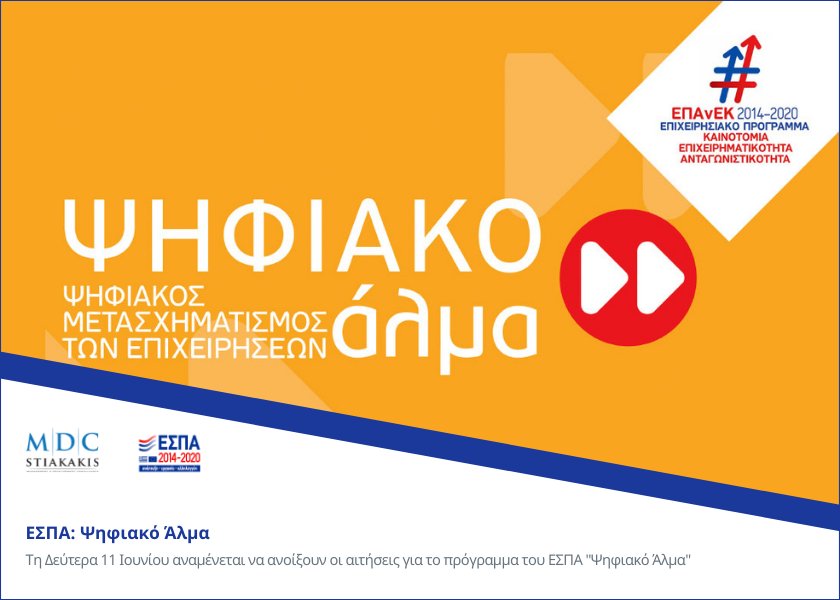 Published on
Applications for the program are expected to start on 11th June aiming at the digital transformation of very small, small, and medium-sized enterprises.
Application Dates:
Start: June 11, 2018
End: November, 15 2018 (3rd deadline extention)
Eligibly:
Existing very small, small, and medium-sized enterprises, which prior to the date of submission of the application they meet the following requirements:
They are in operation for at least two (2) full consecutive fiscal years.

They have at least one (1) eligible activity code number not included in ANNEX IV NON-ELIGIBLE ACTIVITIES
Investment and Subsidy:
Total investments of 55.000 € to 400.000€

50% of the eligible costs can be subsidized
Requirements:
The candidates should:
Have positive EBITDA for at least one of the last 3 years

Prove that at the time of the application they have cash at the bank or any other proof that they are able to cover 60% of the total costs of the investment themselves.

To operate legally having the appropriate license, in accordance with the applicable law

Not Submit costs that have been funded and are part of another program funded by Greek or EU funds

To make one investment proposal per tax identification number exclusively in a single region

Submit an investment project that concerns an eligible activity code number
Subsidized Costs:
Supply, transportation, installation and operation of new machinery and other equipment necessary for the operation of the business and the provision of services
Software customization
Online shop:
In at least 2 languages

Mobile responsive

Ordering, storage, and electronic payments software
Services related to:
Hosting (hosting, collocation)

Internet connection

Digital advertising (google ads, facebook ads)

Development of digital advertising material

Development and/or certification of digital security policy

Data transfer or software customization

Wage cost of employees (new staff)
Digital Business Ranking:
Each business before submitting the investment plan should complete a questionnaire and capture its existing digital status.
Based on its digital classification, it is automatically ranked in one of the four (4) digital tiers that define the levels of digital maturity according to the action guide.
The investment plan should aim to upgrade the business by at least two (2) digital steps.
From the Low (D) to the Upper (B) Digital Gradient,
From Middle (c) to Highest (A) Digital Grade
This is requirement excludes companies already ranked in Tier A (A)
Digital Maturity Questionnaire:
| AA | INFRASTRUCTURE - SERVICE |
| --- | --- |
| 1 | Internet Connection- VDSL (0,5), LL(1), Optical fiber (1) |
| 2 | LAN Networking (0,5), WAN/VPN (1) |
| 3 | Cloud Computing |
| 4 | Computer (s) (0,5), Server (s) (1) |
| 5 | Office equipment (printers, scanners, projectors) |
| 6 | Other technological equipment related to the business activities (eg Bar code readers, Interactive boards, 3d printers, tablets, set top boxes) |
| 7 | Web page |
| 8 | Connect with e- market places |
| 9 | Digital marketing (google ads, facebook ads) |
| 10 | Presence in Social media |
| 11 | E- shop/ booking system |
| 12 | Secure Payments |
| 13 | ​​​​​​​Software for e-invoicing |
| 14 | ​​​​​​​Office applications, Antivirus |
| 15 | ​​​​​​​Specialized programs that help improve production and business processes (ERP, SCMS, WMS, PMS) |
| 16 | ​​​​​​​Customized customer or company management programs (CRM, HRMS) |
| 17 | ​​​​​​​Specialized software relating to the business activity |
| 18 | ​​​​​​​Digital security policy |
To see all the available subsidized programs click here.
Contact us for further details:
Email: grants@mdcstiakakis.gr
Τel. 2810 280985 Fax: 2810 224343