Digital training program in cloud computing in collaboration with OAED - Amazon Web Services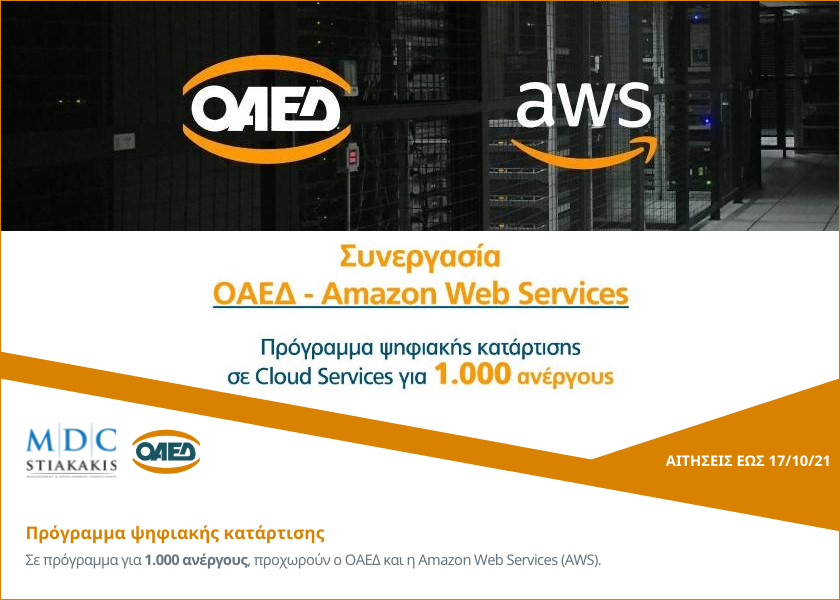 Published on
OAED and Amazon Web Services (AWS) are implementing a new program of modern internet training in cloud services for 1,000 unemployed, through the official educational institution for Greece OTE Academy (Amazon Web Services Training Partner). The submission of electronic applications for participation in the "AWS Cloud Practitioner Essentials" program starts on Monday, October 4, 2021 at 15:00 and will end on Sunday, October 17 at 23:59.
The program is a result of the OAED-AWS Memorandum of Cooperation, with the aim of undertaking joint actions to effectively address the digital divide in the labor market and strengthen the digital economy, with emphasis on the development of skills of the unemployed in cloud services technologies. Through this initiative, OAED expands its scope of cooperation with innovative technology companies for the development of digital skills of the workforce.
The program, lasting 8 educational hours, is offered free of charge by AWS, in the framework of Corporate Social Responsibility. Upon completion of the training program, each unemployed beneficiary will receive a certificate of attendance.
Submission period
from 4/10/2021 to 17/10/2021 (time 23:59)
The applications will be submitted exclusively through the Unified Digital Portal of the Greek State www.gov.gr at the following e-mail address:
https://www.gov.gr/ipiresies/ekpaideuse/psephiakes-dexiotetes/dorean-programma-katartises-aws-cloud-practitioner-essentials
The route will be: gov.gr → Education → Digital Skills → Free provision in the distance training program AWS Cloud Practitioner Essentials
OAED and AWS will continue to work together to further enhance digital skills in the labor market, through the implementation of training programs and workshops. AWS has the necessary specialization, the appropriate infrastructure, the business organization and sufficient experience to achieve this goal and OAED seeks extroversion, partnerships and the digital transition, in order to more effectively promote employment and quality skills training. high demand and in cutting-edge sectors.
To see all the available subsidized programs click here.
Contact us for further details:
Email: info@mdcstiakakis.gr
Τel. 2810 280985